I Have Never Regretted My Decision
He appreciates positive attitude, hard work, and kindness. These are personal qualities he had a chance to encounter during the COVID-19 pandemic, when he in effect nonstop headed a coordination team of our volunteer students who spontaneously created the Dobro1lf initiative to fight coronacrisis on all fronts. He does not like people being late, although he admits that his academic quarter-hour sometimes stretches a little longer :-) This is David Kulišiak, student of sixth year of general medicine, lector of anatomy instruction and vice-president of the Academic Senate of the First Faculty of Medicine.
What did you think of the initiative of student volunteers?
I felt very positive about it, although the circumstances were at first really rather chaotic and no one knew much about it. But I was quite delighted and surprised by the interest our students had shown: they wanted to get involved in fighting the epidemy. Within about a week of beginning of activities of Dobro1lf, several hundred volunteers registered with us and at the moment, we have about twelve hundred of them in our register. It reassured me that our students are human and can be a model for other to follow. And in general, the whole crisis as such infused me with hope and faith in humanity. The public suddenly came together. People started to spontaneously sew face masks, neighbours shopped for one another and helped each other in various ways. We were even approached by several companies from the public sector who offered our volunteers their products, such as coffee, lunches, and the like.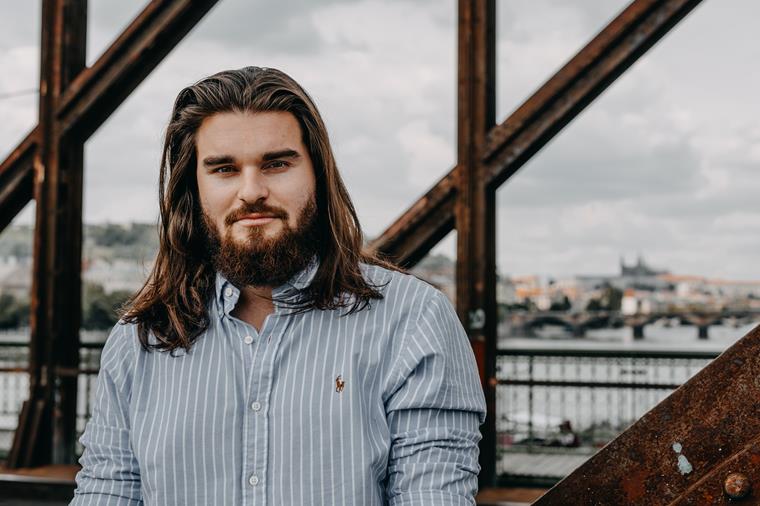 Did you have any second thoughts about becoming involved in the volunteer work? For instance because it meant that you could not go home, to Slovakia?
No, quite the opposite. I knew that there is only one way for me to go. With a bit of exaggeration, I could have either gone home for good or not at all. I decided to stay in Prague.
What was the most difficult thing for you when you coordinated students' work or co-organised the study of collective immunity?
In the beginning, it was naturally most important to get surrounded by the right people who would be able and willing to help. Fortunately, I met some really fantastic colleagues and we created a functioning organisation and coordination team. Then it all worked as it should. Perhaps most difficult was communication with the HR departments of various healthcare facilities, which were in some cases not quite optimally set and it took a few days to find who is competent to discuss with us an offer of volunteering. With respect to the study, the most difficult part were the participants. I do understand that atmosphere in the society was rather tense, but I was not the only one to be surprised on the first day of testing in Kateřinská garden by the way some individuals behaved.
During the Covid-19 lockdown, you thus tried also managerial work, and that is undoubtedly a valuable experience ...
… huge! Unfortunately, it came during not quite favourable circumstances but even so, I am most grateful for it. On the one hand, it deprived me of two months of study and preparation for the final exams but on the other hand, it gave me a lot. I had to deal with so many things at once: from technical stuff through legal and economic aspects and all the way to coordinating several hundred people of collaboration with various subjects. It all depended mainly on good communication. I think it had a positive impact on all members of our team, because we discovered qualities we had no idea we had or could use at a medical school.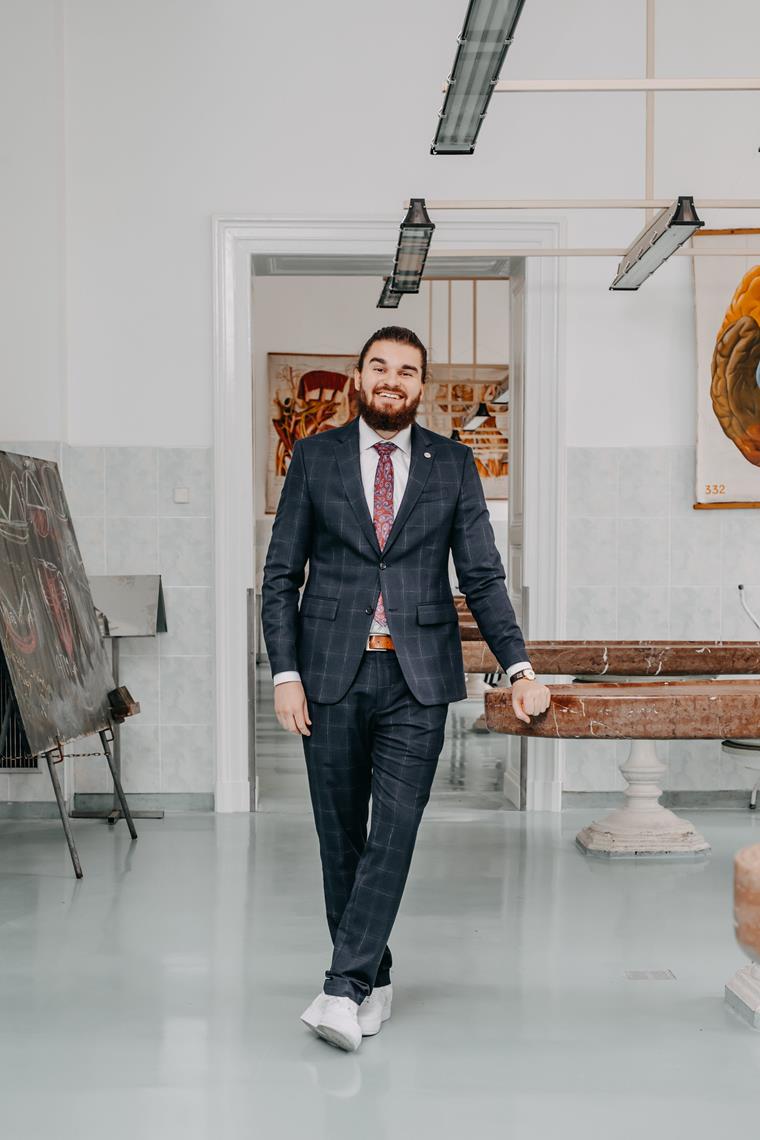 How did you care for your psychological resilience?
Study of medicine trained me over the years well enough. It is not just about preparing for exams but also the demands of daily extracurricular activities I have been engaged in. For instance, work in our Academic Senate, working as lector at the Institute of Anatomy, involvements at various clinics, summer jobs... Nonetheless, during the lockdown, I always looked forward to being back with our Dobro1lf team, because it was a fantastic community. We did not play at saving the world but hoped that even we, students, can do our bit to improve the current situation. That kept me going.
Do you plan for Dobro1lf to keep on going?
After the end of the state of emergency, our activities naturally gradually faded off. Volunteers could choose whether they would continue in their healthcare activities or go back to their studies full time. And with colleagues, we immediately started discussing in what way we would like to preserve Dobro1lf and whether it should be kept alive. It would be a great shame not to continue doing something that has at least some minimal future potential. Personally, I would be much in favour of preserving the initiative, but I know we must find the right direction for it. That is the what we are dealing with now. We considered transforming it into a sort of 'work agency' in the sense of organising short internships in various healthcare institutions for students in clinical years or other people who would be interested. During the lockdown, we had fantastic cooperation for instance with medical emergency services, but it all needs personnel and until now, we've all studying or taking exams.
Why did you actually decide to study medicine, in the Czech Republic and at the First Faculty of Medicine?
I never really wanted to go into medicine :) Not as a child, not at high school. I was interested in history and languages, so at first I thought rather about law, political science, or international relations. A turning point came at the beginning of fourth year in high school, when at the last moment I changed A-level subjects from history and civics to biology and chemistry. I was not all that interested in the realm of animals and plants, but human biology and genetics, that always attracted me. And when my mom, who had for fifteen years worked as a nurse, said that the work one can do in medicine is beautiful, different every day and each time valuable, it helped me decide.
I applied only to one medical school and that was the First Faculty of Medicine. I thought to myself that I would try that and if I do not get in, it is a sign that I should go elsewhere. In the end, I passed the entrance examinations and then set myself another target, getting through the first year. If I manage to get through the first year, through anatomy, and find some sense in what study of medicine gives me, then I should stay. And now I am in year six!
And do you have any regrets? Would you opt for medicine and the First Faculty again?
I have a simple answer to this one: yes, without any hesitation. Our faculty is the largest, oldest, and a number of other superlatives. It gives us many options. But every faculty has its traditional focus, its own area it is good at, and it is up to each person to choose what suits them the most. I never regretted by choice and if I were to choose again, I would definitely go again into medicine and again choose the First Faculty of Medicine.
What do you value in our school the most?
Most definitely the fact that it is one of the four original faculties of the Charles University, which means its history stretches over almost seven hundred years. And then I also think, though I am not sure I am well qualified to claim it, that at the First Faculty, we have the greatest concentration of people at the top of their field. As students we are aware of and appreciate the fact that books we learn from were written by our professors or persons who are respected authorities. It speaks for itself, because the most precious thing the faculty can give us are the personal experiences of such experts.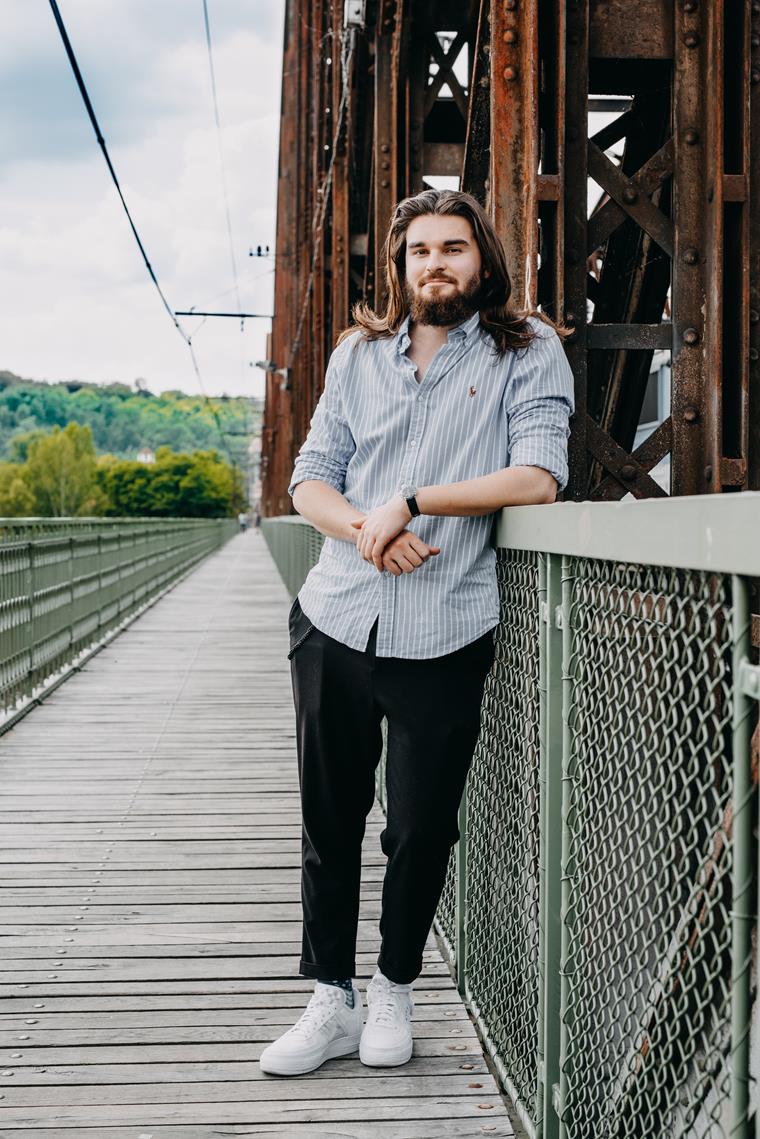 What made you decide to run for the Academic Senate?
The first time I ran was four years ago. At that time, I was already member of the faculty floorball and swimming team, worked as a tutor and lector in anatomy, so I was getting to know the First Faculty better and better. This is why I wanted to represent the views of people I was meeting, and it seemed to me that in some particular areas, I could help the school develop further. During the most recent elections, my second, I was hesitant about running, because I was about to start the last year of my studies. In the end, though, some people from the previous senate convinced me to go for it and continue work on several projects we had started. I am for instance really glad that after several months of trying, we managed to push through some changes in the curriculum of general medicine, which now took a final shape and a lot of people worked on it. It turned out that everything has its time and gradual changes can lead to a change.
How do you enjoy the function of vice president of the senate?
I feel deeply honoured although I did not plan for it. And the function itself? It is very demanding and for me as a person actually 'risky' :) I am trying to do the best for us, students, because they elected me and my colleagues, senators, as their representatives and they placed their trust in us. But that also often means having to convince the academics who will be for instance heading state examination committees, or having to disagree, even quite decisively, which does not come easy to me. Our discussions are, however, always very correct. Without the support of my colleagues from the senate, i could not do it. Senate is a team sport.
So, you believe that student involvement in the management of the faculty is important?
Definitely. Students help form the academic community, they are here for the faculty and the faculty should be here for them. I believe it is good that students are part of the senate, of special committees or advisory organs of the school management and can with their voices influence the direction which the school is taking. In this respect, we highly appreciate the attitude of the current spectabilis, that is, the dean, who supported student involvement to a degree that is perhaps not so common at other domestic or international medical schools. As students we naturally greatly respect all the experts at our school, but we also want to contribute our perspective, a view from the other side of the barricade. If we want to keep moving our school ahead, the two sides must have a functioning dialogue with a possibility of a feedback.
And do the students approach this responsibly?
As member of the Dean's College, the Academic Senate, and a working group, I would for myself say yes, we are fully aware of the responsibility. I would say student representatives do their work well and their views are heard.
What area of medicine do you want to head into after school?
I have been used to working with my hand ever since childhood, so I would see myself in the manual part of clinical medicine, that is, surgery. So far, I am not quite decided whether it should be cardiac surgery, neurosurgery, body cavity surgery, orthopaedic surgery ... At the same time, however, I would like to stay true to my alma mater and continue here as a postgraduate student.
What is your favourite thing to do when you do not study?
My biggest hobby are sports. I must admit that I have been neglecting it lately, both because of limitations during the state of emergency and because school required two hundred per cent focus and activities in the senate and in Dobro1lf took completely all of my time. I am also looking forward to going for a pint to Mrtvá ryba with a few friends.
Did you find in Prague some spots that became your favourites?
Over the past months, it is most definitely the Dean's Office! :) Like I said, we had here our base, which I always looked forward to even more than to going home. Outside school, I like places where I used to live and learned about life in Prague from different angles. Be it a dorm at Jiřího z Poděbrad, Letná close to Stromovka, or now, just a bit off the Náplavka embankment.
Do you have some models or a personal motto?
My parents are definitely my models. My dad, who has been doing hard physical work all his life ... he always says that one's results should always speak for a person and he always used to say to me that I should let 'nothing and no one stand in my way'. My mom always told me that I should either do in life what I love or love what I do.
jat