MUDr. Martin Holcát, Deputy Director of University Hospital Motol, Institute of Public Health and Medical Law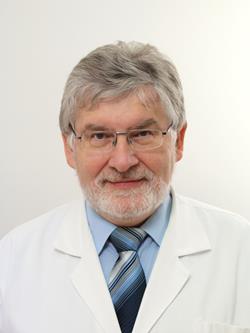 I had the inclination to answer the question of how much the First Faculty of Medicine influenced my life in the shortest and most fitting way possible, by saying: 'Mightily!' But language is a funny creature and I realised that it may be perceived not as meaning 'very much' as related to 'power and might'. What I had in mind was the extent, related to many positive things, although I have learned quite a bit in connection with the latter meaning in school as well, and both in school and in faculty hospitals, in whose management I am still active, I hopefully managed to apply this knowledge well.
The faculty influenced my life already before my birth. My grandfather studied there and even my mother studied medicine for a few terms. Ambitions of ancestors sometimes transfer to children, so perhaps this did influence my choice, my decision to study medicine, then at the Faculty of General Medicine. I started my studies from zero, that is, by being admitted to the 'zero year'. Already there, but also later during my studies and subsequently during work at the faculty hospital and at the faculty, I found what matters most. Friends, including my current wife. Friendship, mutual help, respect, help when it is needed – mutual help offered to one another, family, friends, but also patients –, love of one's work, medicine, positive attitude, awareness of belonging somewhere, the art of collective decision-making... I would say that is the most precious thing we take home from life at the faculty. We learn to fight diseases, scientific dogmas and other practices, failures and losses, stubbornness and lack of discipline on the part of some patients but also our own. We learn rebelliousness but also humility, experience the joy of winning but also find that one must face the disappointment that comes with losing, and in medicine, it happens quite often. The list of what the Faculty of Medicine gave me could go on.
But naturally the most important part is education in one of the most demanding human sciences as such and awareness that for doctors, learning never stops. And for me, that holds also of the opportunity to hand further what I have learned: earlier as assistant at the Department of Otorhinolaryngology and now at the institute of Public Health and Medical Law.