Some people play videogames, others do science. Both is fun!
As a medical student, he never showed much interest in scientific research. Nowadays, however, he leads the Lymphoma Laboratory at the Institute of Pathological Physiology of the 1st Faculty of Medicine of the Charles University, has five postgraduate students, and on the 1st of October became the vice-dean for science at our faculty. On top of that, he works in a hospital and twice a week in an ambulance at the First Clinic of Internal Medicine. He is convinced that one can combine science with clinical work and that all doctors in university hospitals should do that. Pavel Klener is a senior lecturer in haemato(onco)logy who views science as a creative hobby.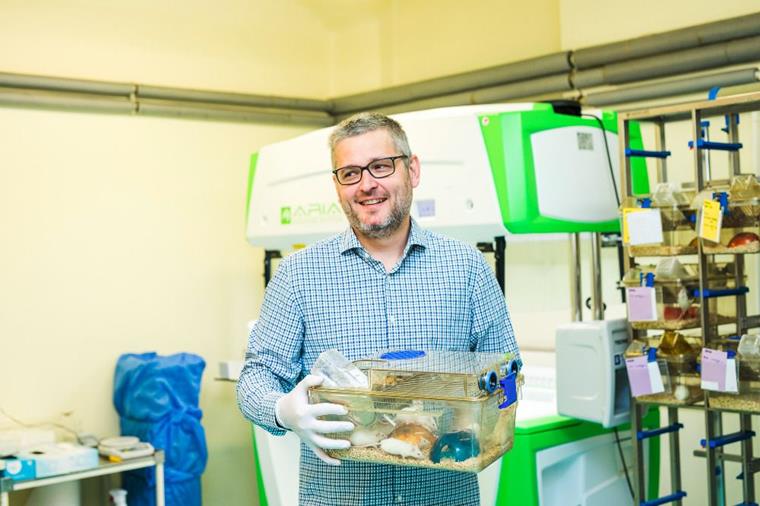 When doctors hear the name Klener, most immediately think of your father, the outstanding oncologist Pavel Klener. Is it hard to be the son of such a father?
I would not say so. People sometimes ask me out of interest, but I never noticed any positive or negative connotations.
How far does the dynasty of Kleners as physicians go?
Just to my father and his brother Vladislav, who is ten years older and used to work in the State Institute of Radiation Protection. My cousin Jan Klener also works in medicine: he is a neurosurgeon at the Na Homolce Hospital. But my grandfather was a clerk and there were no other doctors in the family before that.
Did your father influence your choice of profession?
Given that I never considered doing anything but medicine I assume I must have been heavily indoctrinated. What I like about my father is his systematic approach to solving problems, his modus operandi. We share the same view on many things, and we co-authored two monographs, so we know each other also from the professional side of things… perhaps even better than from the parenting side :)
How was it, cooperating with him on books?
It was good. I decided to go for it also because I wanted to have a keepsake, a memory of writing a book with my dad.
Why did you decide to go into haemato(onco)logy?
I am trying to think how I actually got into that. I suppose I liked blood cells and microscopes. Haematooncology is a young but dynamic area. When my father was my age, this area of medicine offered no help, there were hardly any treatments, while nowadays about 80 to 90 percent of patients get well. I like the fact that it is very complex and there is very little routine, because especially lymphomas, which I focus on, can affect any organ, any tissue. One day, there is a patient with lymphoma of the central nervous system, the next day someone with a lymphoma of the belly, testicle, skin … Each time it is different, and it is great that in most cases, the story has a happy end.
How do you feel about your function, about being the vice dean for science?
I am only getting acquainted with it :) But I do view the faculty very positively, because it is academic environment that enables us to do science and research in the first place. In collaboration with the dean, I will try to move ahead with my agenda, that is mainly the issue of habilitation and appointment proceedings and direction of science and its evaluation.
What does science mean for you?
It is my professional life, my hobby. Because I also do clinical medicine, I do not really have time for other kind of entertainment...
… and what do you find so interesting about it?
Everything. It is an incredibly creative process, which makes me feel great and I find it enormously interesting. One can always ask the same fundamental questions, even when it is just something 'small' that shows up. It is like a game, a puzzle. Some people play videogames, others do science. Both is fun.
Which subjects do you focus on?
As I mentioned above, both in my clinical and experimental work I focus on aggressive lymphomas, that is, a group of cancers of one type of white blood cells, the lymphocytes. It is interesting that although this is the most common haematological malignity, public awareness of it is in comparison to leukaemia almost zero.
One of the areas we investigate is the development of new pre-clinical models of lymphomas. Not only the cell lines but especially mouse models based on the transplantation of patients' cells, that is, patient-derived xenografts. These are the most relevant models for preclinical research when it comes to the biology, behaviour, properties, or even angiogenesis of tumours, which must be properly characterised, and that is quite a lot of work. In our team, we use them mainly for preclinical analysis of experimental treatments both in research projects proper and, especially recently, in contract-based research for pharmaceutical companies. Another direction we have been following is the search for molecular mechanisms of drug resistance in lymphomas and ways of overcoming them. When patient do not react to a particular treatment or their cancer comes back, it does not necessarily mean there is no chance of a recovery. Paradoxically, while tumour cells can acquire new properties which lead to their resistance against a particular treatment, this may also open a possibility of targeting them by a different approach.
What kinds of structures are you trying to target?
In our most recent study, which is now sent for a review, we address a new therapeutic approach. While traditional cytostatic drugs bind to the cellular DNA and cause genotoxic stress, newer drugs target the mitochondria, that is, the organelles where oxidative phosphorylation takes place, and which are full of toxic molecules. To put it simply, when we destroy the mitochondria, the cell commits suicide, that is, apoptosis. It is now becoming clear that this approach works even in intensively pre-treated patients whose tumour cells are resistant to traditional cytostatic drugs but highly sensitive to mitochondrial therapy. I am talking about BH3 mimetics, which block anti-apoptotic proteins. The first drug from this class has already been approved for the treatment of chronic lymphocytic leukaemia. Our group had tested BH3 mimetics for lymphoma treatment and we managed to demonstrate that they are highly efficient.
And all this is taking place in the Lymphoma Laboratory you are heading?
Yes, and this is possible in part thanks to the faculty's facilities. The study mentioned above is the result of collaboration with the Centre of Tumour Cytogenetics of the Institute of Laboratory Technology of the 1st Faculty of Medicine of the Charles University and the General University Hospital, the BIOCEV centre, but also the Laboratory of Molecular Therapy of the Biotechnological Institute of Academy of Sciences of the Czech Republic, and the group for Childhood Leukaemia Investigation Prague, which works in the Motol University Hospital. And, of course, also the 1st Clinic of Internal Medicine – Haematology Clinic. We are trying to outsource as many skills as possible and contribute mainly the ideas and finances, without which one cannot make science.
Which of your successes to you value the most?
The introduction of patient's xenografts, which we now use for most ongoing projects. They helped us establish collaboration with international partners, such as Professor Georg Lenz from the University of Münster, who works on aggressive lymphomas, or a number of colleagues from the European Mantle Cell Lymphoma Network, which is excellently led by Professor Martin Dreyling. Patient xenografts moreover represent a platform that is not yet quite common even in leading international laboratories, which means that in this area, we have a degree of competitive edge, even if it probably will not last long.
Did you also have the experience of working abroad?
During my PhD, I was for two years in the laboratory of experimental haematology in Brussels. I worked there on a rather specialised area, namely the mechanisms of development of T-cell leukaemia in adults. This malignity is associated with HTLV retrovirus. What is interesting is that this disease is modelled on sheep who are injected with bovine leukaemia virus and in two or three years, they develop a disease that is very close to the human form. I did not, however, continue with this work after returning to the Czech Republic, because it is a really specialised subject and only a handful of laboratories in the world work on it, especially in Japan and Canada.
Do you prefer basic or applied research? Or do you not make this distinction?
I do, although I know there are people who hate it. And how do I view this distinction? For instance, investigation of resistance to a particular cytostatic drug is a typical example of applied research – the moment the drug is no longer used, this research makes no sense. So applied, or rather translational research, because applied research involves some economic benefit, tries to answer particular, relatively simple questions from classical medicine. Which mutations are linked to the progress of a disease, resistance, recurrence, poor prognosis, and how that could be overcome … that kind of things. And these are not the questions of basic research. Basic research cannot ask those questions. My background is in medicine, not in natural science, and I have neither the ambition nor the requisite knowledge to get involved for instance in gene manipulations. To do that, I cooperate with people who have these skills.
Is there something you do not like about the approach to science and research in the Czech Republic?
Most of all perhaps the fact that at the moment, the relevant grants of the Grant Agency and of the Academy for Medical Research of the Czech Republic are all short-term, that is, for three, at most three and a half years. In my view, this fails to meet the basic starting point, namely that a scientist is going to do some research, because three years is simply too short a time to do the research, write it down, and publish the results. Most researchers apply when they already have partial results and apply for grants on that basis. If, for instance, grants could run for five years, with some evaluation after two or three years and a possibility of extension, or if there were follow-up grants for particular kinds of projects, one could work more systematically and even the results could be better.
Is it possible to do both scientific and clinical work?
Yes, I believe so. And I think that in a university hospital, everyone should do that. Every physician can contribute at least a little bit to science projects and participate in solving issues linked to the treatment of some disease, be it by collecting samples, statistical analysis, or something else. I work at the First Clinic of Internal Medicine, where I was an intern at the in-patient department and after attestation, I ended up at the haematological ambulance, where I work twice a week and on top of that, I have regular shifts.
Who was the most interesting patient you have met so far?
I tend to recall especially the young patients we have not been able to help. That kind of thing stays in your mind. Nevertheless … recently, we had a rather interesting patient who had acquired a lymphoma from a kidney transplant. It was a unique and hitherto undescribed situation where the organ transplant and subsequent immunosuppressive treatment was followed by the appearance of a lymphoma which the patient got from the kidney donor.
Is there still something that can surprise you?
Certainly, every day. The moment one is no longer surprised is the moment one could start thinking that one knows everything, and that is a sure recipe for disaster.
How do you relax?
A little bit with my children but in other ways not much and I will have to change that. I am trying to do a bit of running but my morale is so far quite low…
Who do you think is number one in your field?
In Czech haematooncology, its definitely Professor Marek Trněný. His insight into the area of lymphomas makes him a unique and internationally respected expert. On the other hand, haematology – like any other science – is naturally not just about one person and there are quite a number of 'number ones' in it.
jat