Tomorrow is today. I don't like putting things off.
Since November 2021, the First Faculty has a new secretary, Ing. Tereza Lukášová, who previously worked on management of IT projects. She has always been attracted to management of healthcare. Now she will dedicate her time to the management of the First Faculty's economy and financing, as well as internal management and operation of the Office of the Dean of the First Faculty of Medicine. Changes are yet to come but already now, she sees space for improvement. She says her first impression of the First Faculty of Medicine is one of great dedication of the people in management, which, as she notes, is an excellent foundation for development of any organisation.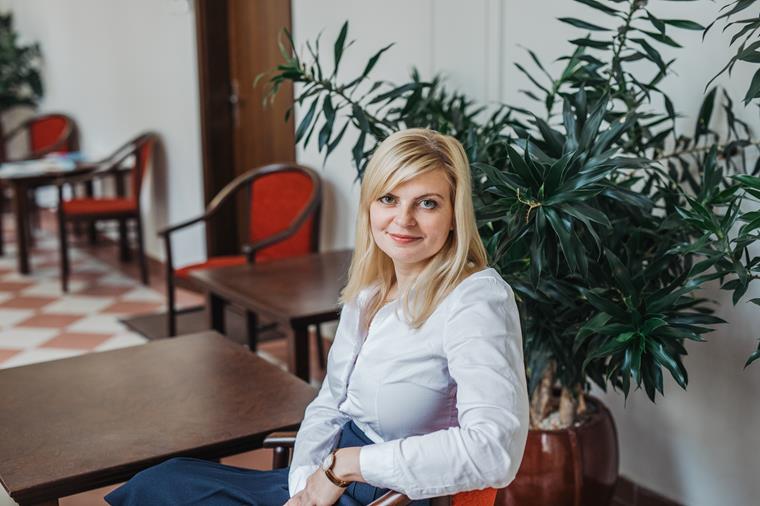 Where did you work before coming to the faculty, from what kind of job are you coming to us?
I am coming to the faculty from the world of information technologies, an area I have been moving in at different positions ever since my studies. In recent years, I worked in project management of IT projects, where I was managing large and with respect to implementation demanding projects for some of the biggest players in the area of health insurance, banking, and petrochemical industry.

You studied at the Prague University of Economy and Business, where you focused on management in healthcare. How will you use this knowledge in managing the faculty?
My heart is in economy, but medicine had always attracted me. That is why I was so excited to find that there exists this specialisation at the University of Economy at the Faculty of Management as a master's course. In retrospect, I appreciate especially the fact that it was taught mainly by people from the practice. A university faculty is not a hospital, but it is closely related to hospitals, so I think I am very likely to use some things from my studies.

In what ways do you find the academic environment congenial?
For several years, I taught social policy and environmental management at the Faculty of Economics and Faculty of Management of the Prague University of Economy. Ultimately, my work obligations came in the way, and I had to give up on it although I did enjoy it. What attracted me here, to the First Faculty, is love of the academic environment, students, healthcare, and management. One could say that the position of secretary of the First Faculty of Medicine of the Charles University in effect brings together everything I ever wanted to achieve in my professional career.

What are you looking forward to?
Everything.
The corporate and academic environment are in some ways different. What was the first thing that surprised you in this respect?
I would not say I was surprised by something – I do, after all, know the academic environment a bit. There are many differences, though, each sphere operates a bit differently, things in academia move more slowly, and in contrast to project management one does not aim at one clear goal but rather a number of larger strategic targets.

How do you perceive the fact that the faculties are largely influenced by management from the top, from the rectorate of the Charles University?
I think this is alright and it is no different from other universities or, in fact, from the corporate environment. When I worked at the Czech branch of one American company, we also had to deal with some things on a regional level while other issues were addressed globally. The institutional 'mother' usually wants not only to run things but also help. And moreover, as a university we often have more power than as a faculty.

According to the statutes of the First Faculty of Medicine of the Charles University, the secretary is tasked with the management of the faculty's economy as well as with the internal management of the faculty and the Dean's Office. It may be now, at the beginning, a bit difficult to say what you might see as requiring change. Or do you already see some such things?
Yes, we are just beginning. I do already see some things, but I would also like to keep them to myself until I have a fuller picture. What I can share are some of my first impressions. The management of the faculty is composed of incredibly enthusiastic and hard-working people who breathe for the faculty and want to move things forward. That is an excellent foundation for the development of any organisation.
How did you view medical schools earlier, before you had the chance how it operates up close here at the First Faculty of Medicine?
As an economy student, I always felt sorry for the medics that they must study all the time, but I also respected them for it. I was able to work half-time even in first year: that is something medics cannot even dream about.
Do you have some motto to guide you in life? Can one apply it also to your work at the faculty?
Well, yes. This is an interesting question. And just imagine this was also the first question I was asked by the selection committee after I introduced myself. My motto is 'Tomorrow is today.' I do not like postponing things.
You are, among other things, interested in economic equality. Is it about gender equality? Medical academia tends to view this area with a degree of caution. Will gender policy be also something you will deal with while working at the faculty?
Naturally one cannot avoid this subject, nor do I try to. It is important. For the past ten years, I have been moving in a purely masculine environment. For myself, I used to play this game: When we had a meeting of the steering committee or a larger project meeting, I would count the ratio between men and women in the room. Usually it was about 15:1, 30:2, and the like in men's favour. Despite that, I cannot say I felt in any way disadvantaged. Men work somewhat differently from women and that is a fact. I found for myself that as a woman, I cannot achieve much by adopting men's working methods. I must be myself and not pretend I am somehow incredibly tough. Another thing, though, is that men help each other. We, women, do not do it so much. We tend to compete. That must change. Ever since I started moving in management, I have been trying to help other women, encourage them, and use in projects a symbiosis of male and female approaches to address challenges.

In our faculty newspaper, the Number One, we have a column 'How do you relax outside of medicine?' How do you relax?
Since childhood I always had an abundance of energy, so I do not need to relax very much. What absolutely switches off my stress is my dog, Alvin. I am fortunate in that I am from a large family, and I have this family in Prague, so I am trying to spend with them as much time as possible. And with my partner, we like to travel. I also play golf, though there is less and less time for it. On top of that, I practice yoga.
Which area of medicine do you feel close to?
I suppose I should say 'pathological physiology', but no one would believe it. I admire all areas of medicine, that incredible progress which medicine, and especially its practitioners, had achieved.